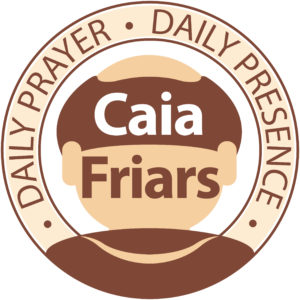 Our Commitments
Caia Friars & the Friends of Caia Friars – Expressing our commitment as a community working together
Caia Friars are a Christian order (The Order of Caia Friars).

Friends of the Friars, share together with members of the Order a loving concern for the Caia Park community

The Friars affirm their faith, as expressed in the historic Creeds of the church

The commitment is recognized as being 'for a season', not necessarily, lifelong.
Disciplines
Prayer by the Friars
A Daily Office to be used a framework for prayer each day.

A monthly diary of prayers will be provided for use by Friars with a theme for each week.

Most Friars belong to a WhatsApp group to help them to keep up to date with their prayers.

Attendance once each term at Mark on the Park Prayers (there are 4 such gatherings each term) or an act of worship at St Mark's or another church on the Park.
Community service for Friars and Friends of Friars.
   A demonstration of a practical concern by participating in a ministry on Caia Park, which could be:
An outreach ministry of the church eg. Current ministries include Food Bank, Holiday Hunger,

Kid's Klub, Tin Can, Bingo or importantly for some but not all, a commitment as part of a worshipping congregation on Caia Park.

A voluntary organisation serving the community of Caia Park eg. Brownies, Youth groups, play schemes, Caia Park Partnership, Deva House.

Living on Caia Park and being a good neighbour

Working on the Park and being a good colleague
An annual meal would be held together for Friars and Friends of the Friars at which there could be an exhortation and also a welcoming of new friars
Caia Friars 

does not represent a dilution of the Friar's commitment to their home church. Rather, the Friar's commitment is seen as one aspect of the home churches' commitment to Christians Together in Wrexham.

 

Friends of the Friars 

are all those people of peace and goodwill but not necessarily holding to any creed or faith, who support the many forms of community service.

 

The annual meal provides the main opportunity to consult together and decide each year if further meetings are appropriate to discuss any issues, developments in the community's life & opportunities for strategic advance.

 

The Order supports individual Friars and Friends of Friars contributing from time to time in major events organized by the community on Caia Park, or in new community initiatives.
If you are interested in learning more about Caia Friars or are considering joining please contact the Vicar, Jonathan Smith: Email JonathanSmith@cinw.org.uk  Tel 01978 350797 Mob 07835 353068.
Click on the following links for more information: